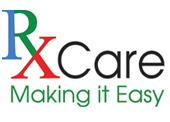 AUTOMATE DAILY ADMINISTRATIVE FUNCTIONS
In the present scenario, for any Doctor to be competitive and efficient it is necessary to automate his daily functions. RX Care is complete doctor management software which increases the competitiveness and efficiency of the Doctor´s by automating their daily administrative functions and let doctor´s focus on their patients completely.
BETTER PATIENT COMMUNICATION AND CARE
As a Doctor, you routinely have to capture a large amount of information about your patient in order to provide good medical care .Medicine is a pen and paper intensive domain, where clinical history, examination findings, lab reports, scans, appointments all happen on paper. Paper get lost, misplaced, RX Care can help you manage your paper work more efficiently.
RX Care can help you increase your productivity, by allowing you easy access instantly to all your patients medical records, no matter where you are!
Key Features
Patient registration and management
Capture Radiology Vendor/ Pathology Reference
Maintain Patients Database including
Personal Details
Medical History
Past prescriptions
Contact Information
Schedule Appointments
Send SMS
Intelligent Prescription with preloaded Medicines
Billing and Receipt Generation
Benefits
Service your patients better
Establish Relationship with the Patient
Save Time
Simple to Use
Friendly interface
Cost Effective